Are you ready for ANOTHER fun blogiversary giveaway?
Giveaway #2 includes 3 of our favorite birthday themed things: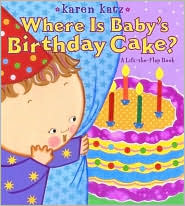 1 - Karen Katz's Where Is Baby's Birthday Cake
We have more books by Karen Katz than any other. I love the consistency of illustrations in all of her books - at a young age, my daughter was able to identify any book written/illustrated by her because of this. Did I mention it is a "Lift-the-Flap" book?
2 - Melissa & Doug's Birthday Party Cake
We LOVE anything by Melissa & Doug - and this is by far, our most used piece.
3 - Custom Made Felt Birthday Crown
One of our newest birthday traditions is making and wearing a felt crown on your special day. If you win this giveaway package, I'll make your child a custom crown for their next birthday.
Wanna win? Read below . . .
Giveaway Entries: For your chance to win, leave a comment on this post by Saturday, January 15th @ midnight. To get a second entry into the giveaway, post about Toddler Approved AND this giveaway on your blog or Facebook page and send us a link in the comments section so we can check out your blog/page too! For a third chance (I'm all about increasing your odds) tell me your favorite birthday tradition. I'll announce the winner chosen from random on Monday morning, January 17th.
I hope YOU win!